SAINT CHARLES FC - PRE-USL ACADEMY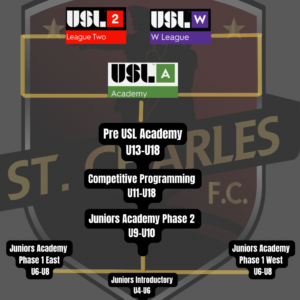 Supplemental to our USL Academy Program we will also be forming a Pre-USL Academy Program. The focus of this program will be on the U13-U17 age groups. We believe the creation of this program will be integral in helping us achieve vertical integration from our Saint Charles FC youth programming up to our USL Academy. This program will be overseen by our assigned USL staff and senior staff to ensure that consistency and connectivity is created in line with our USL Academy, USL2 and USLW teams.
The purpose of our Pre-USL Academy is to begin instilling the same principles, functionality, and expectations from our USL Academy Program into our future USL Academy players. The Pre-USL academy will also allow us to effectively monitor player development and create a true feeder/network program underneath and into our USL Academy Program.
The Pre-USL programming will be less intense compared to our USL Academy Program. Layered into our regular training program, it will also start to introduce the following - game field, sports performance, and sports psychology to the players. Our Pre-USL teams will compete in regional leagues, state cup, with the U13, U14, U15, U16 and U17 players all having the potential opportunity to attend the USL Academy Cup in 2023.