With the launch of USL Academy, the United Soccer League now has an elite youth platform to offer to its clubs in the Championship, League One and League Two.
As such, these clubs can now develop a more clearly defined path for top youth prospects in their area to reach the professional level and sign directly with their senior team while improving local quality and community.
The USL Academy brand is composed of four key components: Standards, USL Academy Contracts, USL Academy Cup and USL Academy League. Learn more about the USL Academy here.
                            SAINT CHARLES FC - USL ACADEMY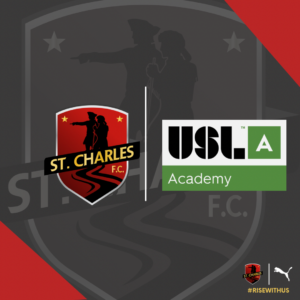 For Saint Charles FC, the launch of our USL Academy pathway will serve as a developmental building block in between our youth program and senior Men USL2 and Women's USLW teams. Our club model within the USL Academy will consists of four key components:
Pathway -  A complete full club pathway from our Juniors Academy to Saint Charles FC senior men (USL2) and women's (USLW) teams.
Training Environment – Emphasis on long term player development, overseen by qualified staff and relevant support structures (Qualified coaching staff, Game Film, Sports Psychology, Sports Performance)
Programming – Structured programming and games schedule designed with a purpose with player development and p

eriodization

in mind.
Club Connectivity – Connecting our youth program to USL Academy, USL2, USLW
December 2022 will represent the official start of our USL Academy U19 season. The USL Academy team will play in the U19 National Premier League (NPL),  U19 Midwest Conference (MWC), specific showcase events, state cup, and the USL Academy Cup which is the most prestigious competition within the USL Academy structure.
USL ACADEMY OPEN TRAINING SESSIONS:
Who: U16-U19 Boys (year of birth: 2007. 2006, 2005, 2004) interested in playing for our USL Academy team.
When: Tuesday, December 6th. 6:30pm-8pm
Where: Lutheran High School, (5100, Mexico Road, Saint Peters, 63376, MO)
Registration Link: https: https://stc2020fc.leagueapps.com/events/3510381-saint-charles-fc---usl-academy-u19---open-tryouts